You need to use quality RCA cables if you want the clearest sound from your car speaker system. Unfortunately, this isn't always possible with the stock cables that come with your system. If you want to get the most from your setup, a small investment in some quality cables will be more than worth it. To help you make the best decision, we've reviewed the best RCA cables for car audio and go into the pros and cons of each.
10 Best RCA Cables for Car Audio
1) KabelDirekt RCA Stereo Cable
This high quality cable comes with double shielding to effectively prevent electromagnetic and radio interference. Gold plating is used on the connector pieces for corrosion prevention. Finally, the wires are designed entirely with high quality oxygen-free copper, providing superior sound delivery.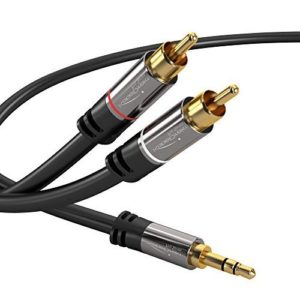 Good value for the noteworthy features
Gold-plated connectors
Oxygen-free copper
Available in six different lengths
Connectors can be somewhat slippery due to sleekness
2) Better Cables Silver Serpent Red/Black RCA Audio Interconnect
This cable has a specially constructed hybrid design, using both copper and silver, which delivers better conductivity and lessens the resistance. This unusual combination provides a better signal than pure copper cable, landing it at the top of our list.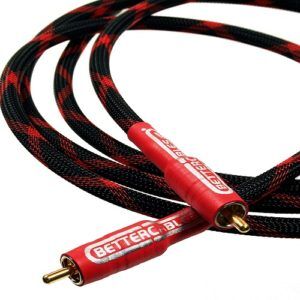 Unique Silver Coating
Great Flexibilit
Minimal capacitanc
Stranded conductors
Coating may oxidize after time and heavy use
3) JL Audio XD-CLRAIC2-18 2-Channel Twisted-Pair Audio Interconnect Cable
The JL Audio Twisted Pair is outstanding for delivering a highly clean audio signal. This cable delivers fantastic, pure audio signal and has been created to minimize interference in its signal, helping to provide optimal sound quality. This RCA cable has a split center pin type. The pin in the center of the connector functions as a fastening piece, allowing the cable to remain securely in its port.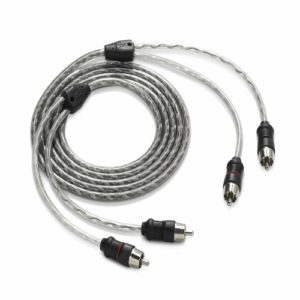 Unique pin type
Oxygen-free copper
Platinum-plated cable ends
Premium Frosted Shielding
Insulation is thinner than other cables tested
4) SHD 3.5mm Aux to RCA cable
This simple RCA cable is offered in a variety of lengths from 3 feet to 25 feet. It features an ideal 99.99% pure copper wire and gold plated (but thin) connectors. Materials used are basic and the price reflects that.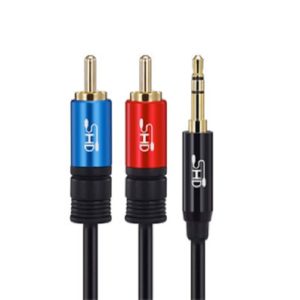 Red and Blue plugs are super easy to identify, even in dark environments
Easy-to-grip connector
Small enough connectors to be used in crowded spaces
Basic jacket design could use more insulation
5) Mediabridge 3.5 mm to RCA cable
The Mediabridge 3.5mm RCA cable's connector is designed with a step-down design is for ensuring that the plugs are firmly connected to your portable device and the audio system. They use small notches in the pin to hold the connector in place. This cable includes dual shielding, which is a huge benefit when it comes to blocking signal interference, noise and distortion from outside sources.
Step-down plug design
Double Shielding
High quality gold-plated connectors
Flexible design
Limited to 3.5 mm connection
6) Audioquest Evergreen Audio Interconnect 3.5mm to RCA cable
This high performance cable is among the leaders in RCA cables. It places highly due to specially designed insulation wrapped around the wiring, which performs as a shield against signal disturbance. Polyethylene foam surrounds the dual copper conductors running through the center of the cable. This special insulation foam uses air-filled pockets to effectively guard against external signal disruption.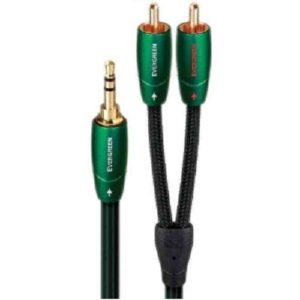 Specially effective insulation
High quality copper
Easy to use with smartphones and other devices
Flexible braided jacket
Only usable for 3.5 mm sockets
7) AmazonBasics RCA to RCA cable
AmazonBasics RCA cable provides high standard of performance at a good price. It is designed for low and high frequency signals, so it works well with both subwoofers and car stereo units. We found this to be very easy to work with, as the connectors are designed with excellent fitting, gold-plated connectors.
Clearly marked red and white connectors
Great balance of fit on ports: not too tight or loose
Durable and sturdy
Long lasting
8) Ugreen 3.5 mm to RCA cable
The Ugreen 3.5mm to RCA cable is designed with a thing profile in mind. It felt very light weight and easy to use with a range of devices. Minimalistic connector with gold-plated ends are easy to pull out and fit snugly around ports.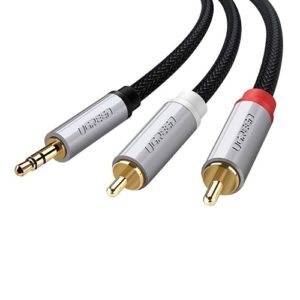 Very slim design
Easy to use in tight spaces
Can be easily connected to portable device with a case
Connectors could be too tight around some ports.
9) Jsaux 3.5mm to RCA cable
The Jsaux RCA cable is a standard level hook-up for your smartphone in your vehicle. Coming in a variety of lengths, it features a unique anti-stretch clench near the RCA ends to keep them close together for easy plugging in. 3.5mm end holds securely inside portable devices.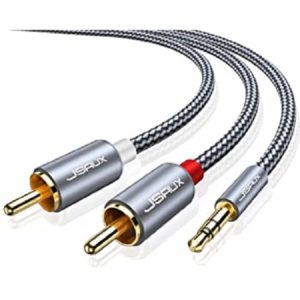 Durable and flexibility- tested to last for over 10,000 bends
Easy-to-grip connectors and braided jacket
Gold-plated connector
Easy to use even with an smartphone case
10) SKW Audiophiles RCA cable
We saved our favorite for last. The SKW Audiophiles cable combines an attractive design with extraordinary quality, all without breaking the bank. It's made with gold-plated connectors and a stylish nylon wrapping. Sound quality using this product is outstanding.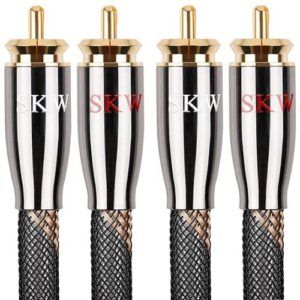 Sharp design with unique, branded jacket
High quality materials
Aluminum Alloy connector shell
Thick, durable cable
Slightly slippery connectors
Important Features to look for in RCA cables
RCA cables are designed with a conductor that leads a signal from one audio device to a second one. This cable is meant to be used in addition to and in the same space as other cables in your audio system, so the signal carried by the RCA cables will be near other signals carried through other wires and cables. This can sometimes lead to interference in the audio signal moving through the vehicle's RCA cable. As a result, you may notice distortion and excess noise in the system's sound.
To avoid this, your RCA cable must have shielding protecting it from such noise and electromagnetic interference. In addition, radio frequencies may cause similar problems. This is another good reason to have effective shielding. It's definitely best not to sacrifice quality when looking at RCA cables. Thicker shielding–or even double shielding–is preferable to thinner shielding.
A connector is attached to each end of an RCA cable. The two configurations that are most common are 3.5 mm and RCA plug ends; and double RCA plug end. Whatever type you choose, it's important to select one that has a durable connector. These will extend the life of the cable and endure repeated plugging and unplugging. A tight connection to the ports is easier to find with thicker connectors.
Another advantage to finding a cable with thicker connectors is the ability to maintain contact with its receiving port. This means that the signal will remain clear and clean, improving the quality of the sound. Thinner connectors risk becoming loose over time and weakening the contact with the port.
Types of conductors vary from brand to brand. Despite these differences, the vast majority of conductors are comprised of copper. This material is ideal because audio signals are easily transferred through this metal.
On top of that, there are also differing standards of copper. Some RCA cables use copper in its standard form while others use specially treated copper. Copper can be treated in various ways to improve conductivity. The most common version of this is oxygen-free copper, which is typically 99.95-99.99% pure copper. This type can conduct a signal with a purer sound quality than standard copper wiring.
Copper may be mixed with other metals. Silver, another effective metal, is sometimes mixed with copper to improve conductivity. Also, other metals, namely gold and platinum, can be used to coat the connector. This provides better resistance to corrosion and thus a longer life for the cable.
A sought after configuration for conductors is stranded. These RCA cables are comprised of many thin cables with the aim of increasing flexibility and surface area of conductivity and reducing resistance.
You can expect to see quite a range of prices for this type of cable. Price depends on the quality of materials, durability of components, and thickness of shielding and connectors. Keep in mind that with an RCA cable, going cheap is definitely not recommended. Not all cables are the same. You can expect high quality if you make the investment in the right cables.
Even if you pay a higher price, always choose a high quality cable. It will provide better sound quality and last longer than a cheap one. It will always be a worthwhile investment in your sound system.
For RCA cables for vehicles, numerous lengths are offered. What you buy needs to be long enough for the necessary connections between components in your system. Therefore, it's a good idea to make measurements or at least get a good sense of how long each cable needs to be. You can't cut these to a specific length (like you can with speaker wire). So length is more of a factor to consider for this part.
Capacitance is an electrical systems ability to store a charge. A further beneficial aspect of a good RCA cable is having low capacitance. In RCA cables, this means the cable is not as likely to pick up another signal from another source, and therefore only delivering the signals from the which RCA cable is connected. The ultimate result is perfect sound quality.
Most frequent questions and answers
These jacks refer to either where the signal is coming from (output) or where it is leading into (input). Input is used for receiving the audio from another device, while Output is for sending the audio from this device to another. When using RCA to RCA cables, you will have to think about which device (e.g. the receiver) is sending the signal and which is converting that signal in to sound (e.g. the speaker).
There will be red and white jack (also called a port) colors and corresponding colors on the plug grips, or sometimes marked as a strip on the grip for alternative designs. Red is used for the left audio channel and white is used for the right audio channel.
The difference in usage is in what devices you are connecting. RCA to 3.5 mm is used to easily connect a smartphone, tablet, or MP3 player (3.5mm end) to a speaker, stereo receiver, subwoofer, or amplifier (RCA end). On the other hand, RCA to RCA cables are meant for linking amps to subwoofers, amps to speakers, speakers to subwoofers, etc.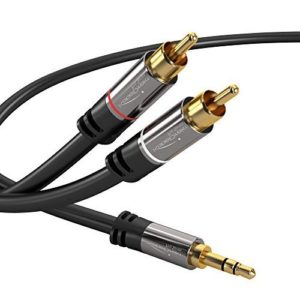 KableDirekt
Our #1 Recommendation
Good value for the noteworthy features
Gold-plated connectors
Oxygen-free copper
Available in six different lengths
Want to know more about car audio and stereo systems? Check our other guides to learn more about the best equipment and how to set up your own stero system.

Sidney U. Harman has over 10 years of experience working in the AVL industry. He originally cut his teeth as a stagehand in the OKC area before moving to Denton for university. After learning to run the boards, he developed a solid passion for sound. His obsession with car audio developed 5 years ago as a natural progression from commercial AVL.