One of the biggest challenges as a wakeboarder is how to enjoy music while riding the wake. Headphones come off too easily and regular boat speakers aren't loud enough. The solution is wakeboard tower speakers. My team reviewed the best wakeboard tower speakers to help you avoid poor sound quality.
The 10 Best Wakeboard Tower Speakers In 2020
1) DS18 HYDRO 6.5" Pod Tower Speakers
The HYDRO line of speakers form DS18 are some of the best speakers we tested. The 6.5" model is a great balance between the hard-hitting quality you want in a boat tower speaker and a balanced price. These speakers boast a carbon fiber casing with attractive LED lights. All parts are IP65 marine grade compliant and made to withstand rough conditions. Each speaker comes with a 360-degree rotation clamp made from a UV compliant high-gloss composite.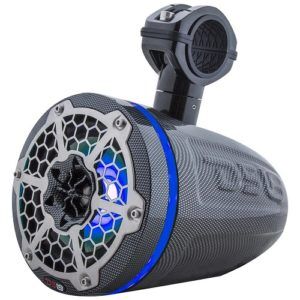 91dB sensitivity rating
100 watt RMS power rating
Optional extended warranty up to 3 years
Free shipping
LED Bluetooth controls sold separately
2) Rockville 8" 2-Way 600 Watt Wakeboard Tower Speakers
Rockville is a favorite brand of ours. During our testing and research, their products have been consistent and reliable. Their 8" 600-watt wake tower speakers proved to also be a quality option with plenty of power. The total power rating is 200 watts RMS with 300 watts of peak power per speaker for a total of 600 watts. A strong selling point is that both speakers are fully marinized and built to withstand both salt and freshwater. You can also save plenty of money with both free shipping and a 90-day money-back guarantee.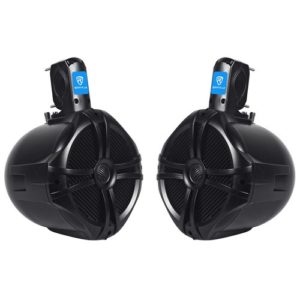 Can withstand saltwater and freshwater
Free shipping
Stainless steel terminals
200 watts RMS power rating
3) Noam N4 Quad 4″ 2-Way Wakeboard Mountable Speakers
Noam may be newer on the scene, but they've developed a solid reputation when it comes to marine and power sports audio. Their N4 speakers are explicitly designed for wakeboard towers with a waterproof, mud proof, snow proof, and shockproof design. These speakers have a 100 watt RMS rating and 200-watt peak power. The impedance rating is 4 Ohms with a frequency response of 100-20 kHz. This is a complete speaker system with amplifier and wiring, so there is no need to purchase anything else.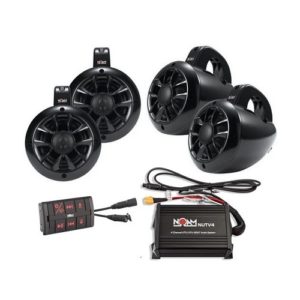 More affordable than similar speakers
1-year warranty
100 watts RMS power
Complete 4 unit speaker system with amplifier
4) Boss Audio MRWT69 Tower Speakers
Boss Audio is another favorite because of the high quality and consistent service. The MRWT69 is a mid-range fully marinized speaker good not only for marine audio but also for all-terrain vehicles. The unit has an RMS power rating of 275 watts with a max rating of 500 watts. The swivel clamps are made from a cast aluminum and durable enough for rough waters. It comes with all of the hardware necessary for proper install, but the one downside is that this is a single speaker and not a pair.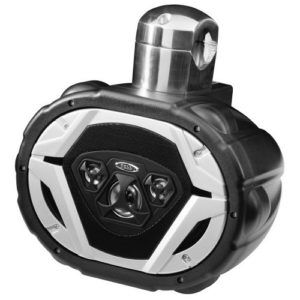 Frequency response of 40 Hz to 20 kHz
3-year platinum dealer warranty
Impedance rating of 4 Oms
Two 1-inch Mylar dome tweeters
5) MCM Custom Audio Marine Wakeboard Tower Speakers
MCM Custom Audio is a lesser-known speaker company. However, their wakeboard tower speakers are still some of the best we've reviewed. These speakers have a heavy-duty ABS case and mount with 1" titanium dome tweeters. The RMS is 100 watts with a max power of 200 watts and a frequency response of 4 Ohms. The only downside is that the mounts are made from a black plastic material. We would prefer to see these formed from aluminum. These are sold in pairs with the option of purchasing either white or black colored speakers.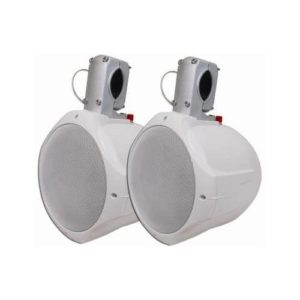 White or black color
Titanium dome tweeters
Heavy-duty ABS case
Two-way speakers
6) DS18 HYDRO 10" 2-Way Pod Tower Speakers
As with the 6" HYDRO at number one on this list, the 10" model is both powerful and high caliber in design. During our testing, we found this to be more than adequate for blasting music to the rider in the back and can provide great sound. More importantly, when we contacted DS18, their customer service was top notch. The HYDRO 10" has a passive subwoofer radiator and built-in bullet twitter. Both speakers are rocking 900 watts at max power and come in a matte black casing with LED lights.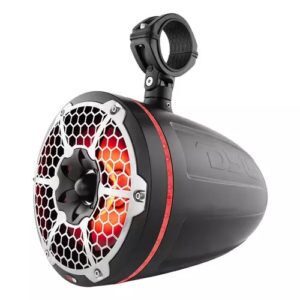 900 watts max power
Black or white color options
Free shipping
RGB LED trim lighting
Less affordable than some options
7) Polk Audio DB692 6X9 Marine Boat Wakeboard Tower Speakers
Polk Audio has over 48 years of experience manufacturing audio equipment, and it really shows through with their marine speakers. Their DB692 boat speakers are capable of blasting music at a powerful 450 watts max and 150 watts continuous. These speakers have come in a black housing made from aircraft-grade aluminum and are water resistant IP65 marine grade. The mounting brackets can fit on poles between 2" and 2.5". These speakers also have been tested against freshwater and saltwater and can withstand dirt and fog as well.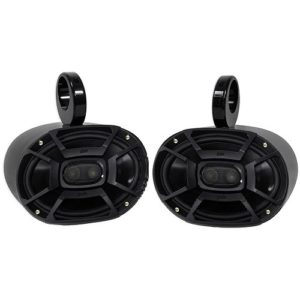 IP65 marine grade housing
450 watts at peak power
No tweeter protrusion
Universal mounting brackets
8) Boss Audio MRWT40 Waketower Speakers
The MRWT40 is a slightly less powerful version of the MRWT69 marine wakeboard tower speakers reviewed above. That said, these still have a substantial amount of power. The MRWT40 speakers run at 200 watts peak power, each with a frequency range between 130 Hz and 20 kHz. The casing is made from marine-grade waterproof materials and comes in either black or, for a bit more, black with RGB LED lights. These speakers come with a 3-year platinum warranty, which is one of the best we've come across.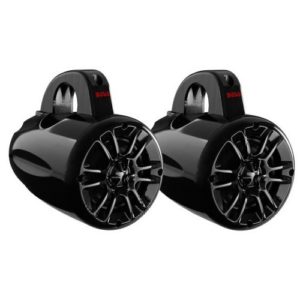 3-year warranty
Solid black or with LED optional
More affordable than similar options
Twin speakers
May need adaptor for smaller rails
9) Rockford Fosgate PM2652W Wakeboard Tower Speaker
Rockford Fosgate is a trusted brand, and their marine wakeboard tower speakers are representative fo this. These are less powerful than many of the speakers on this list but still produce good sound quality. The speakers come in at 85 watts RMS and 170 watts of max power. The container is made from a durable material resistant to water, UV rays, corrosion, and dust. Each speaker comes with everything needed for installation, including a 360-degree mounting bracket as well as a 2-year warranty.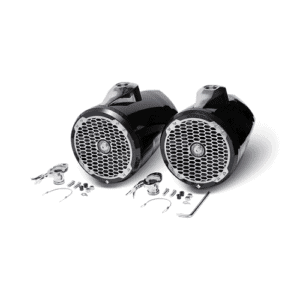 Mounting brackets with 360-degree rotation
2-year warranty
Stainless steel sport grille
Complete hardware included
Not as powerful as other speakers
10) Wet Sounds Revolution Series 10" Tower Speakers
Wet Sounds is known for making powerful speakers with great sound. These speakers clock in at 600 watts peak power and 300 wats RMS. The 10" cone is kevlar reinforced with a polyurethane surrounding. The unit has a pro-axial driver with a high output titanium diaphragm. These marine speakers have been tested for up to 80 feet perfect for wakeboarders, tubers, and skiers. Each Wet Sounds unit comes with a 2-year warranty from the date of purchase.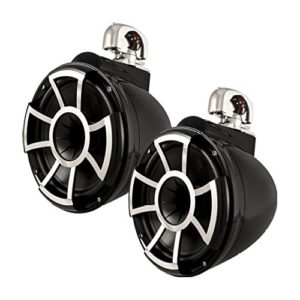 600 watts peak power
Speakers are made from quality material
Excellent sound
Sensitivity of 92 dB
Less affordable than many marine wakeboard speakers
Wakeboard Tower speakers Buyers Guide
You have quite a bit of flexibility when it comes to speaker size. Because these wakeboard speakers will be attached to a rail instead of installed into a panel, its
For Wakeboard Tower Speakers, there is more flexibility to choose the size you want compared with car audio systems. That's because these marine speakers attach to the boat's tower, instead of being installed into a set-sized panel. So, two factors for size should be considered.
The first is how they will look on your boat. You probably won't want large speakers for a smallish boat. They may be in the way of your head when moving around the boat or maybe just look out of proportion.
The second factor is performance. Larger speakers produce more sound and have stronger bass than smaller ones. So depending on your desired use for the speakers, the specs can be used to determine which ones will be optimal for your set up.
Your speakers must be marine-rated. This rating means that the materials used to construct them are good enough for use in marine environments. Specifically, the effects of UV rays and saltwater will hardly have an impact on the longevity of the speakers. Each speaker that has this touted for marine use is rigorously tested to win this certification.
Every wakeboard tower speaker system has adjustable mounting hardware. This allows you to secure the speakers to a wide range of tower bars. However, you should pay special attention to the specs regarding the possible ranges in bar size, because each speaker set has its own range. Take measurements of your tower bars before making a purchase. This should guarantee a tight fit when installing the speakers. An added bonus that some mounting hardware includes is the ability to swivel. This will let you direct the sound in any direction you like.
You can expect to find a range of prices when looking at the products we have reviewed. On the one hand, the high-end speakers on our list deliver truly outstanding sound and are worth the investment. But the more affordable options offer a significant improvement to your boat's sound system, as well. We have picked what we think delivers the best results based on their price.
Power handling means the amount of power a speaker can use to operate safely. It can be measured in two ways: RMS power and Peak Power.
RMS (root mean squared) power is the amount of continuous power a speaker can handle. In contrast, Peak power is the maximum amount it can handle in a short burst without being damaged. You would hate to blow out a speaker if there were a sudden spike in volume.
RMS is a better indicator of how loud and bass-heavy a speaker can be when used normally. In this way, it's more of a factor for power when making comparisons between speakers to buy. Power is measured in Watts (W).
Frequency is the measurement of how high and low a system can deliver sound. The smaller the frequency's low limit, the deeper the bass. Frequency is measured in Hertz (Hz) and sometimes kilohertz (kHz). A typical wakeboard tower speaker with a good range is around 70hz-20kHz.
While you can't hear the speakers directly from our review, this is something we can show you. It's essential to choose a system that you think will look good on your vessel. Fortunately, there are a variety of styles out there to choose from: some are sportier and flashier, some more discreet and low-key.
A few units have special features, such as multi-colored lights to put on a show as your music bumps. While most speakers are black or white, others are more colorful, so this can be a factor in your choice for the best-looking set for your boat.
The woofer plays a big part in sound quality and how responsive the speaker is. If it is made of a lightweight and stiff material, responsiveness will be boosted.
The woofer surround protects the woofer's cone and suspends it. It also acts as a way of keeping the woofer in place as it flexes to provide bass frequencies. Repeated humidity can cause cracking and break-down of the surround. However, if made of high-performance rubber, it's life will undoubtedly be extended.
Finally, crossovers help to prevent distortion in the sound quality. In this system, three different frequency ranges are delivered with three separate wires. This lessens the risk of signal interference, providing better sound delivery.
Most frequent questions about wakeboard tower speakers
Our Choice For The Best Wakeboard Tower Speaker
After extensive research and testing, we've found the DS18 HYDRO 6" to be the most consistent and to have excellent sound. While all of the other options on this list are good, the HYDRO line from DS18 came in at a great price with high caliber design and performance. We liked the HYDRO 10", also mentioned in this list, but the price of the 6" is much more affordable without sacrificing sound quality. We also liked the carbon fiber casing the HYDRO 6" speakers come in which give them a distinctive look along with the LED lights.
Key Considerations:
Quality sound
Durable carbon fiber case
LED trim lights
Affordable speakers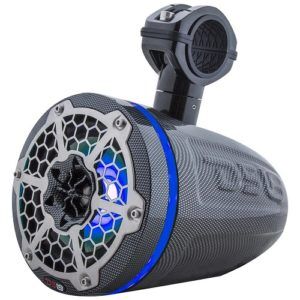 DS18 HYDRO 6"
Our #1 Recommendation
91dB sensitivity rating
100 watt RMS power rating
Optional extended warranty up to 3 years
Free shipping

Sidney U. Harman has over 10 years of experience working in the AVL industry. He originally cut his teeth as a stagehand in the OKC area before moving to Denton for university. After learning to run the boards, he developed a solid passion for sound. His obsession with car audio developed 5 years ago as a natural progression from commercial AVL.